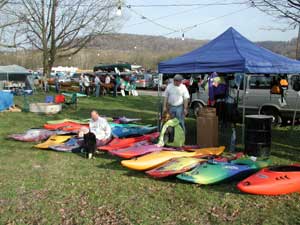 View Larger Map
Directions:

Greenhouse Park is located along PA 403, three miles south of Johnstown and four miles north of Davidsville.
Greenhouse Park is 11 acres with pavilions, volleyball court, walking track and other amenities along the Stonycreek River between Johnstown and Tire Hill. Located along PA Route 403 at 100 Greenhouse Road, Johnstown, the park has become one of the region's most-popular event venues, hosting the Stonycreek Rendezvous, Thunder in the Valley events, Wing Blasts, concerts and a variety of community events each year.

Whitewater Park, Pennsylvania's first set of constructed rapids, is located in the Stonycreek River adjacent to Greenhouse Park. Novice paddlers can learn basic whitewater techniques in Class II water and more-experienced boaters can play and practice in hydraulics. Tubing and fishing also are popular activities here.


To Rent a Pavilion or for Other Park Information:

Call Conemaugh Township at (814) 288-1400
or
Visit the Conemaugh Township Website


Contact Information for Whitewater Park:

Benscreek Canoe Club


Related Websites: