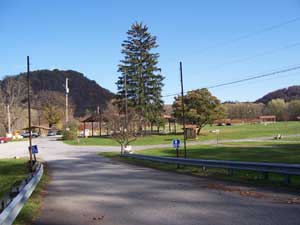 View Larger Map
Directions to Driving Tour Stop #2

From Greenhouse Park, turn left out of the entrance road onto PA Route 403 South. Proceed 2.5 miles on PA Route 403 South to Carpenter's Park Road and turn left. Proceed 2.0 miles to a dirt and gravel parking area with a small strip of blacktop on the left which is the access area for Yoder Falls, McNally Bridge, and a historic trolley trace.

Latitude: 40.2766
Longitude: -78.9233


View Map

Print-friendly version


Driving Tour Stop #1

Greenhouse Park once was the site of a truck-farming complex, started by William Barron around 1900. Two generations later, Tom Barron sold what had grown into a 13-structure complex to Floyd Yoder. After the 1977 Flood, the Federal Emergency Management Agency acquired the land and turned it over to Conemaugh Township with the stipulation that no permanent structures be developed upon it. Under the operation of Conemaugh Township, the park has become a favorite outdoor venue for a variety of annual events, including:

The Stonycreek Rendezvous, an annual gathering of whitewater-paddling enthusiasts in late-April.

Thunder in the Valley, a motorcycle rally that draws hundreds of thousands to a variety of venues in the Greater Johnstown area in late-June. Bikers camp and gather here.

Wing blasts each July, sponsored by the Conemaugh Township Volunteer Fire Department, that feature live entertainment and competitions between local restaurants and taverns vying for the title of "Grand Wing Master."

The public also uses Greenhouse Park as a place to picnic, exercise, enjoy nature, and paddle in Whitewater Park.

Whitewater Park became the first park of its type in Pennsylvania when it opened in the adjacent section of the Stonycreek River in 2008 after years of efforts by a coalition of local groups, spearheaded by the Benscreek Canoe Club. This artificial set of Class II rapids is designed for play-boating, learning how to paddle in whitewater and tubing. But the park also is becoming popular with fishers and people who find the setting peaceful and relaxing.

This park complex also marks the beginning of the Kiski-Conemaugh River Water Trail, which extends for 84 river miles through the Stonycreek, Conemaugh and Kiskiminetas rivers before ending at the Allegheny River near Freeport.


Related Links: