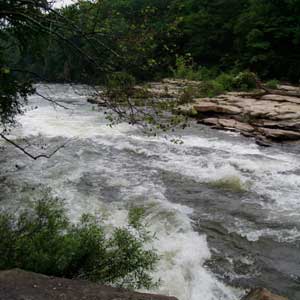 View Larger Map
Directions:

The Stonycreek Canyon is located between Hollsopple and Carpenter's Park. The boat-shuttle route runs from Hollsopple northeast along PA Route 601 to Paint, then left onto Cottage Lane to Carpenter's Park.
The Stonycreek Canyon is an isolated and ruggedly beautiful section of the Stonycreek River that extends for approximately five river miles from Hollsopple to Carpenter's Park. Within this area – much of it accessible only by boat – are 15 named, Class III-IV rapids and the Cambria Somerset Authority's Border Dam. The Border Dam is a river-intake dam that provides a secondary water supply to Johnstown and should not be run by boaters. (The portage is on river-left.) Canyon put-ins are located in Hollsopple and Foustwell. For boating spectators, Foustwell offers viewing opportunities both up and downstream. Canyon rapids require a minimum river depth of three feet as measured on the USGS gauge at Ferndale and are ideal when the river is running 3.5 to 5 feet. The rapids get pushy at 4.5 feet and achieve expert-only status at 6.5 feet.

Click here for more information on the Canyon's named rapids.

Contact Information:

Benscreek Canoe Club
(814) 266-4276


Official Website
E-mail: spodratsky@aol.com

Related Links:

For the whitewater release schedule, click here.
For real-time water levels, use this link.