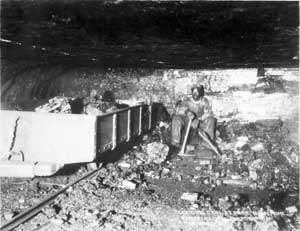 While lumbering activity within The Stonycreek Corridor dates back to the early 1800s, railroad access to the hillsides of virgin hemlock and white pine prompted an eruption of logging operations here by the start of the 20th century. A number of loggers worked within the corridor. However none were bigger or had a larger impact than the Babcock Lumber Company. Babcock established a sawmill along the Roaring Fork of Shade Creek that became Ashtola, an operations and administration center. In the early 1900s, Babcock's lumbering operation within The Stonycreek Corridor was one of the largest in the state, producing 64 million board-feet of lumber in 1905. Babcock ended operations here in 1913 but continues lumbering operations elsewhere to this day.


There has been limited coal mining within the corridor since the early 19th century. But in the final decade of the 1800s, the railroads provided access to rich coal reserves, which led to an explosion of activity. Within the river basin are 14 coal beds of mine-able thickness. Three of them - the Lower and Upper Kittanning, and Upper Freeport seams - have been mined most extensively here.

The Berwind-White Coal Mining Company of Philadelphia acquired 30,000 acres within the corridor in 1892-93 and established its Eureka Coal mining operation. Over the next couple of decades, Berwind established 13 mines and a network of communities to support the operations. Windber (whose name was created by switching the syllables in "Berwind") was developed as a regional headquarters, supporting company operations and providing regional facilities for the individual mine (coal-patch) communities. The company became the nation's largest independent coal producer, and The Stonycreek's mines accounted for 70 to 90 percent of the company's total production between 1902 and 1916. Berwind mines remained active within this region into the 1950s. Many other coal operators also mined within The Stonycreek Corridor and were responsible for the development of most of the communities that exist here today. Surface mining began in the 1940s and continues to produce significant tonnages of coal there today.

Coal mining here started to decline after World War II, and most operations had closed by the early 1980s. Today, while limited coal mining continues within The Stonycreek Corridor, it is just a vestige of the day when coal was king here.


For More History on Lumbering and Coal Mining click here and go to page 27. (2.4mb)


Related Links: